Elmhurst, IL 60126
Phone: 312-399-2056
Fax: 630-279-0521
Email: ChicagolandEskieRescue@live.com
Aide in the rescue of any American Eskimo Dog in need.
Find permanent homes for every Eskie in our care. Not to place them with just every person who simply wants an American Eskimo Dog.
Provide breed specific and general education to current and potential owners.
Provide support to any owner for the entire life span of their Eskie.
Protect American Eskimo Dogs from abuse and cruelty.
Function as a responsible rescue organization that will provide safe shelter, health care, socialization and a new life with the proper placement into a respectable forever home.

<< go back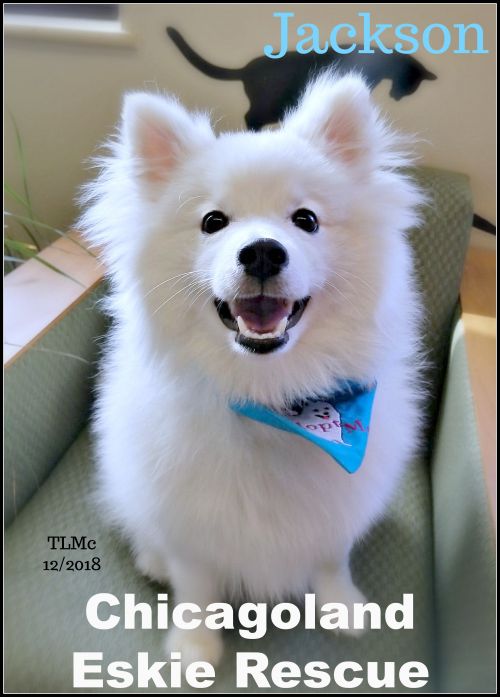 Jackson
Breed: American Eskimo Dog
Age: Baby
Sex: M
Size: S
Jackson is a beautiful, male, mini American Eskimo Dog. He is currently 9 months old and approx. 17 lbs. He is super sweet, plenty playful, and has endless energy! Jackson was never properly trained as a younger puppy, so he needs training now; he knows no boundaries. Jackson runs, jumps, spins, and then does it all again. His very favorite thing to do is zoomies in of course, a securely fenced yard...something Eskies are "famous" for! A good game of chase is fun too! Jackson is sweet, treat motivated, loves toys, enjoys walks, and is well behaved for car rides. Having said that, Jackson also needs an experienced Eskie owner, someone who understands the breed and can teach respect for his person in a gentle way. Jackson does not like to be groomed, therefore continued introduction of bath, brushing, nail clipping needs to go slowly so that he learns that this is not a terrible thing that is asked of him. The best home for Jackson will be one with another younger and playful dog to help burn some of his energy. Jackson will not do well in a home where he is alone all day, waiting for his person or people to come home from work. He is a puppy and cannot be left out at large in a home, he will need containment of a properly sized crate or a high gate in an area that has little to get into. Yes, Jackson will get into things and will chew on things, he is still a puppy. Jackson is not housebroken, so will need several outings each day to learn what is expected of him. Older kids will be OK, but no small children, he will knock them over, and play bites can hurt. No cats. No dogs that will get annoyed at a puppy that will jump on him or her. A securely fenced yard is a big plus. Professional training will be required for his adoption, then proof back to the rescue to show this has been accomplished. This is important because an untrained Eskie pup will turned into an out of control Eskie adult. Eskie experienced, active applicants only need apply! Please send an email to: CERapplications@gmail.com for an adoption application and any questions. Thanks!
View this pet on Petfinder.com