Elmhurst, IL 60126
Phone: 312-399-2056
Fax: 630-279-0521
Email: ChicagolandEskieRescue@live.com
Aide in the rescue of any American Eskimo Dog in need.
Find permanent homes for every Eskie in our care. Not to place them with just every person who simply wants an American Eskimo Dog.
Provide breed specific and general education to current and potential owners.
Provide support to any owner for the entire life span of their Eskie.
Protect American Eskimo Dogs from abuse and cruelty.
Function as a responsible rescue organization that will provide safe shelter, health care, socialization and a new life with the proper placement into a respectable forever home.

<< go back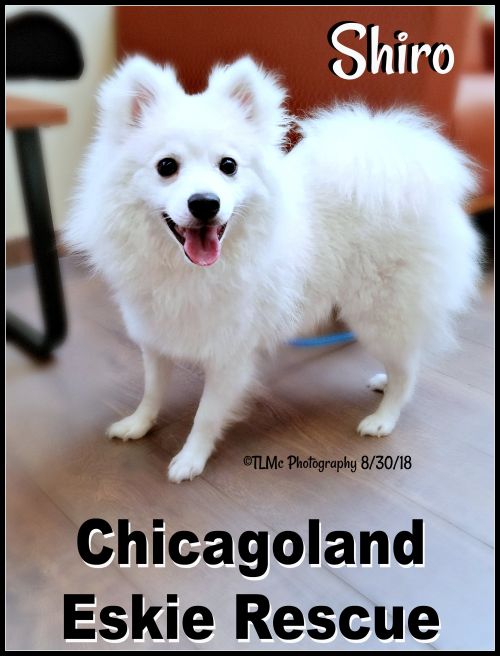 Shiro
Breed: American Eskimo Dog
Age: Young
Sex: M
Size: S
This is Chicagoland Eskie Rescue's Shiro! Shiro is an adorable 2 year old, 16 lb., Japanese Spitz. Just like a young Eskie, he is full of energy and spunk! Shiro is very smart, he knows a few commands, SIT, DOWN, PAW or HIGH FIVE....and he will do it with each paw! We are still working on the STAY command....right now he doesn't really have the time to stay still for more than maybe 8-9 seconds! LOL! Shiro loves to RUN and play a good game of cat & mouse......aka catch me if you can! Shiro is getting better on leash and enjoys going for walks. He is also VERY treat motivated! Shiro has the personality of....I'm cute and I know it, therefore I should be the boss. Shiro's personality goes further with the attitude of ....go ahead and convince me, or BRIBE me, that this is a good idea.....for whatever "this" is that you are asking him to do. BUT the good news is that he can be bribed! ;-) So yes, he can be a bit stubborn. How unusual for a Spitz, right! LOL! The perfect home for Shiro is someone who understands the Spitz breed, can provide enough exercise, and is willing to do some serious training to teach him who is the true boss. NO small children, NO large dogs, NO cats. No one in an apartment, he is a barker and likes to voice his opinion! Shiro is in the Chicagoland area! If you are interested in adopting Shiro, please send an EMAIL to: CERApplications@gmail.com for an application. THANKS!
View this pet on Petfinder.com