Elmhurst, IL 60126
Phone: 312-399-2056
Fax: 630-279-0521
Email: ChicagolandEskieRescue@live.com
Aide in the rescue of any American Eskimo Dog in need.
Find permanent homes for every Eskie in our care. Not to place them with just every person who simply wants an American Eskimo Dog.
Provide breed specific and general education to current and potential owners.
Provide support to any owner for the entire life span of their Eskie.
Protect American Eskimo Dogs from abuse and cruelty.
Function as a responsible rescue organization that will provide safe shelter, health care, socialization and a new life with the proper placement into a respectable forever home.

<< go back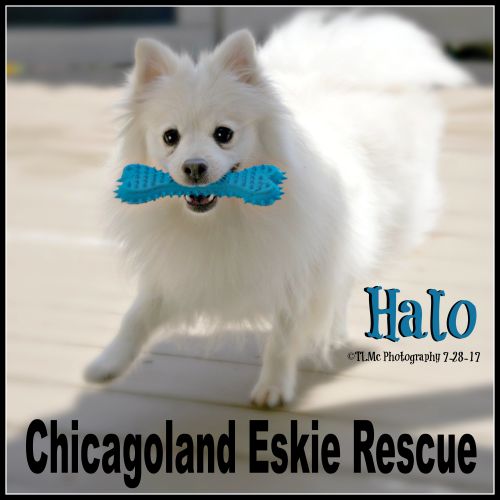 Halo
Breed: Pomeranian
Age: Young
Sex: M
Size: S
Meet Halo! Halo is a 2 year old male Pomeranian. He has had a tough beginning being moved from home to shelter to home to shelter again.... This leads to a dog being hesitant to trust, and who could blame him! If Halo is approached too fast by a stranger, someone he just met, or even his person during the bonding and adjustment period, he will snap. Once Halo starts to trust, he becomes very affectionate and playful. Halo loves to play fetch with a soft toy or small ball. Without knowing exactly what Halo had gone through in his previous life, we have found some areas of sensitivity for Halo which we are working on. He is sensitive around his head and neck; we have been practicing wearing a collar with an ID tag and being leash. Small dogs generally do better wearing a harness, but in order to reduce his neck reactiveness we are practicing leashing his collar. Next we will start practicing with a harness and taking walks. We are also, practicing picking him up, placing him back down, petting his head and neck to show him that this is a sign of affection and not to be feared. Halo is also suspicious of people wearing heavy or winter boots, sadly we are showing him that boots will not hurt him. Halo is very anxious in a dog crate, but he does very well in a doggie playpen so to have a safe space of his own. Halo will potty both outside and on a potty pad. He sleeps soundly through the night and is a good eater. Once Halo becomes familiar and comfortable with someone, he has a tendency to try to guard that person he is with, by growling, especially when this person is one of his favorites. We are working on this guarding behavior and this will need continued work once he is adopted. This behavior is part of why some Poms are referred to as having a "snarky" attitude. With time and patience Halo will be a wonderful companion for that Pomeranian experienced person who loves to be home as opposed to being out and on the go constantly. Halo is neutered, up-to-date with vaccines, heartworm negative, and microchipped. If you are interested in Halo, PLEASE send an email for an adoption application. Thank you.
View this pet on Petfinder.com